It's February, which means that day which divides the singles and the not so singles is coming up. Restaurants promising a love filled evening are everywhere and every single shop is filled with shades of red or pink. But, did you know that China's response to the sheer number of singletons is to create a Single's Day. On this day in 2016, Alibaba made more profits than Black Friday, with over $17.8 billion in sales! Is this a sign that the winds are changing and that  millennials turning against the status quo?
It's Self Love Month at Annabel Giraud-Telme, and did a bit of digging around in the fashion and beauty industry to see what is happening in terms of self love, expression and mental health. Believe it or not; in the age of Kylie Jenner, contouring and social media we are caring less and less about wrinkles! Anti-ageing products saw their first fall in sales in ten years. Is this generation going to be the one to stand up to the perfected image of the female portrayed by advertising and the fashion industry?
Consumers are increasingly demanding that advertising changes, perfection is no longer reigning. We want to see models and to quote John Legend- their perfect imperfections. For the first time ever, British Vogue saw Ashley Graham, a plus size model, kick 2017 off to an amazing start, gracing the January cover. But a tinge of sadness still ran through, as many designers refused to provide clothes for the cover. This movement away from portraying female models as incandescently perfect is one which we should be welcoming. If fashion and advertising can show women that imperfections are beautiful, this can have a huge impact in promoting self love and confidence. Glamour's January cover saw the actresses from Girls dressed in Marc Jacob platforms and dresses without a hint of retouching. Not only is this issue 100% made by girls, but in a modern magazine first, cellulite graced the cover and wasn't even a big deal. Usually magazines or brands define this as their unique selling point, it just is what it is, take it or leave it. This is HUGE and surely is a sign that 2017 is going to be a good one and, if anything, a year to celebrate all your imperfections.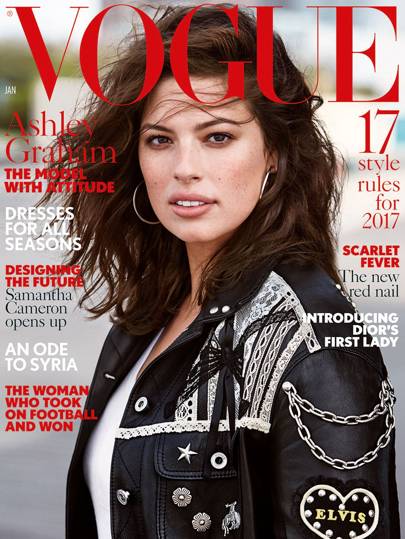 Photo Courtesty: Patrick Demarchelier for Vogue
Photo Courtesy: Emma Summerton for Glamour Magazine